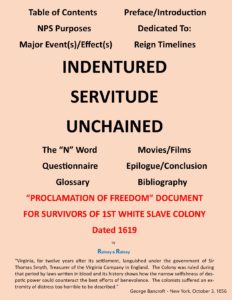 Was the Indentured Servant in America during the Colonial Period fulfilling a labor contract, or was He/She a Slave, or both?
Was the 1st English Colony, Virginia, for the 1st 12-years (1607 to 1619 AD) a slave colony?
If this was a slave colony, were there Survivors?–how were they freed and was there a Proclamation of Freedom Document issued?
Was there an Underground Railroad for White Slavery for over 250 years in America until President Lincoln issued the Emancipation Proclamation in 1863 for White and Black Slaves?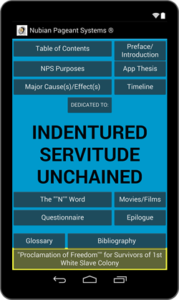 WE are REVEALING THE ONLY "PROCLAMATION OF FREEDOM" DOCUMENT  (Emancipation Proclamation if you will)  FOR WHITE SURVIVORS OF THE 1st ESTABLISHED WHITE SLAVE COLONY (IN VIRGINIA)  THAT WAS OFFICIALLY ISSUED IN 1618 AD AND DELIVERED IN 1619 AD.
AND NOW, 400 YEARS LATER  WITH TENS OF MILLIONS OF WHITE DESCENDANTS  (OUR WHITE BROTHERS & SISTERS AND FELLOW AMERICANS),  WITH US ALL CO-EXISTING AFFORDS US:  1) TO HAVE THAT CONVERSATION ABOUT REVEALING THIS NOTED TRUTH AND  2) TO HELP HEAL RACISM, WHAT WE CONSIDER A MENTAL ILLNESS IN AMERICA,  AND FOR THAT MATTER, GLOBALLY.
THESE TRUTHS WILL HELP TO DISPEL THE MYTH THAT SLAVERY IN AMERICA ESPOUSED ITSELF ONLY upon AFRICANS, but contained within this Cultural App is evidence that WHITE SLAVERY IN AMERICA SECURED  ITSELF, THOUGH UNDERGROUND, FOR OVER 250 YEARS THAT COMMENCED IN 1607 AD — UP UNTIL 1863 WHEN PRESIDENT LINCOLN ISSUED THE "EMANCIPATION PROCLAMATION" TO ABOLISH SLAVERY FOR WHITES & BLACKS …HENCE WHAT SHORTLY FOLLOWED IN 1865 WAS THE 13TH AMENDMENT OF THE U.S. CONSTITUTION THAT LEGALLY ABOLISHED SLAVERY AND INVOLUNTARY SERVITUDE FOR THOSE WHO HELD SUCH STATUS.
"Hold On" track by Michael Freeman
Title: "HOLD ON" by Michaeal Freeman of Freemondo Productions

Description: This music is our Theme music for our website … just click the media player below to hear it again.
Community Service
Aloha from Maui,
We are pleased to receive your comments relative to our work(s) in the community, and we trust you in turn are also spreading the truth about us all being each other's keeper.
Take care…
George & Terri
April of 2011 – On "East Coast" Tour – Tri-State Region (NY/NJ/CT)
Aloha Again,
Nubian Pageant Systems' Owners (from Maui, Hawaii) are on tour on the "East Coast" for the next few months giving presentations & providing displays of their cultural pageant work with local communities, specifically in the Tri-State region.  During the month of February, like last year, Nubian Pageant Systems and the African Americans on Maui conducted African Cultural presentations (World Black History) at Borders Book Store in Maui, Kahului (HI)–our deepest thanks to Borders Book Stores senior management for the past 15 years and now Starbucks.
 Copyright© 1995 to 2018 Rainey & Rainey, All Rights Reserved