Comments for eBook: "Indentured Servitude Unchained" on Amazon Kindle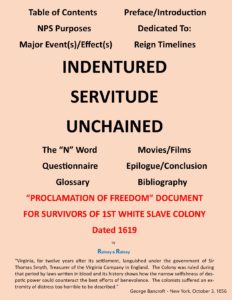 Was the Indentured Servant in America during the Colonial Period fulfilling a labor contract, or was He/She a Slave, or both?
Was the 1st English Colony, Virginia, for the 1st 12-years (1607 to 1619 AD) a slave colony?
If this was a slave colony, were there Survivors?–how were they freed and was there a Proclamation of Freedom Document issued?
Was there an Underground Railroad for White Slavery for over 250 years in America until President Lincoln issued the Emancipation Proclamation in 1863 for White and Black Slaves?
These questions and at least 30 more are posed and answered (using Virginia Colonial Records & the U.S. Census Records) in this 90 page eBook for your convenience; and take advantage of viewing our screenplay's "Sneak Preview Timeline" for this 1st 12-year period in the Virginia Colony.
Join us in this quest…
Rainey & Rainey